DiMarzio DD2200JPBKBL John Petrucci Nylon ClipLock Quick Release - Black Nylon Blue Stitching + John Petrucci Jazz III picks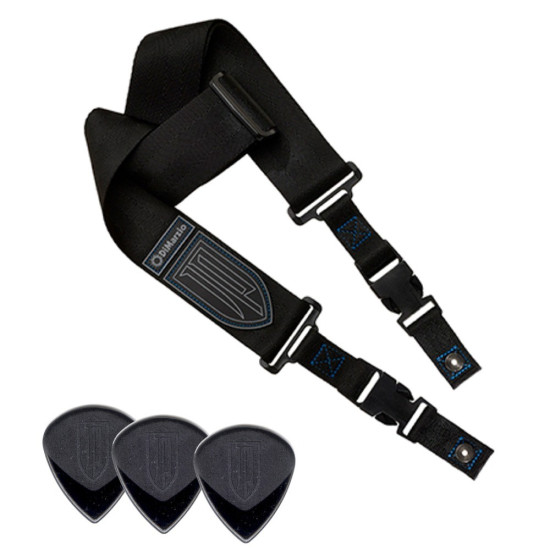 DiMarzio DD2200JPBKBL John Petrucci Nylon ClipLock Quick Release - Black Nylon Blue Stitching + John Petrucci Jazz III picks
Details
John Petrucci is a longtime user of our ClipLock® Quick Release Guitar Straps. The John Petrucci Nylon ClipLock® Guitar Strap was specially designed for and with John, and made to his custom specifications.
It is 2 inches wide black nylon and features John's JP shield logo in gray and black stitched to the lower front portion, just above the heavy-duty clip and bushing that attaches to your guitar. The strap is available with either blue or red topstitching.
Additionally, three John Petrucci Jazz III picks by Dunlop® are included with each strap. These picks were designed to John's own specifications. The 1.5 mm black Ultex picks feature a raised grip with the same JP shield logo as the strap and a slick polished tip.
We make our ClipLock® Quick Release Guitar Straps with automotive nylon seatbelt material for its comfort, strength, and durability. Unlike inexpensive polypropylene, nylon has a smooth, satin feel, allowing the guitar to slide freely during performance. The fabric conforms to your body and adds a new level of comfort, yet it is strong enough to hold over 150 pounds!
DiMarzio® ClipLock® Quick Release Guitar Straps were the first to feature the heavy-duty plastic clip that allows you to easily change from guitar to guitar with a little fingertip pressure. ClipLock® Quick Release Guitar Straps are the industry standard for strength, security, and quality, and attach securely to your guitar with two sturdy bushings and extra-long screws sized to fit the strap bushing screw holes on most electric guitars and basses.