Floyd Rose Original Gold Tremolo kit FRT300 with R2/R3/R4 nut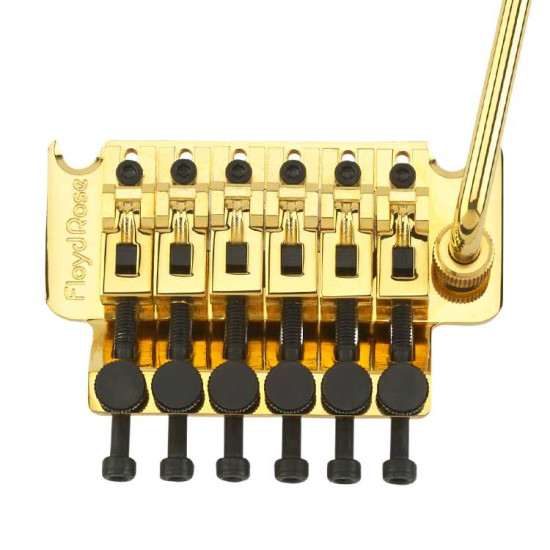 Floyd Rose Original Gold Tremolo kit FRT300 with R2/R3/R4 nut 
Floyd Rose Tremolo Kit Original FRT300 with R2, R3 or R4 nut, Gold, made in Germany

This is an original, new, high end German made Floyd Rose tremolo kit, not to be confused with licensed versions made in other countries
Used by more professionals throughout the world than any other. No copy can duplicate the double-locking design of the Floyd Rose Tremolo System that allows you to lock your guitar in tune at the nut and at the bridge. The Floyd Rose Tremolo System is engineered like no other tremolo system. Its high quality steel parts are precision-made in Germany to exacting specifications, and it's available in a variety of nut sizes that will fit practically any electric guitar. 
The tremolo kit contains the bridge, locking nut, springs & claw, mounting studs, and all hardware necessary for installation. 
Note: We ship with R2 nut by default. R3 or R4 can be substituted at no charge. See nut sizing chart links below.
Base plate Hardened steel 

Saddles Hardened steel 

Tremolo block Nickel-plated brass 

Tremolo arm Stainless Steel 

Screws Hardened steel 

Springs Coiled steel