Mosky DTC 4 in 1 Guitar Effects Pedal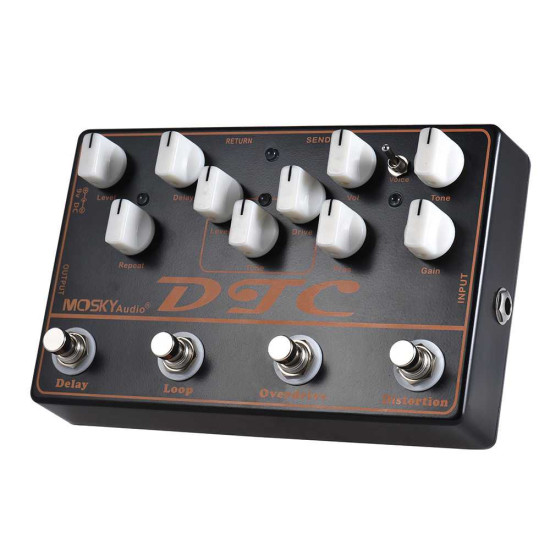 Hot
Mosky DTC 4 in 1 Guitar Effects Pedal

Mosky
Combined Effect Pedal

4 Effects Pedal in 1 Unit  :
Distortion, Overdrive ,LOOP, Delay
DTC

Distortion:
Based on the CRUNCH Distortion,and ROIT Distortion.
A high gain distortion sound, Two mode to choose.
Gain: Adjusts the amount of distortion
Tone: Adjusts the EQ. Clockwise is brighter, Counter clockwise is darker
Pres: Adjusts the High frequency 
Vol:Adjusts the output level
Voice : Two distortion mode choose.

Overdrive:
Based on the Tube  Overdrive  (ts9).
Drive:Adjusts the amount of Overdrive
Tone:Adjusts  the amount of treble in the sound
Level: Adjusts the output volume of the pedal
FX LOOP
The SEND and RETURN jacks let you expand your board with other pedals .the FX LOOP point is positioned between the Overdrive And Delay modules. 

Delay:
Level: Sets the level of delayed signal mixed with straight guitar tone, fully CCW there is only straight (un-effected) guitar signal heard and fully CW gives the loudest delay.
Delay:  Adjusts the delay time from 25ms (fully CCW) to 600ms (fully CW)
Repeat:  Adjusts the repeats of the delay signal, fully CCW gives one repeat and at fully CW you get infinite feedback