Ramble FX Marvel Drive V3 Overdrive Effects Pedal - Purple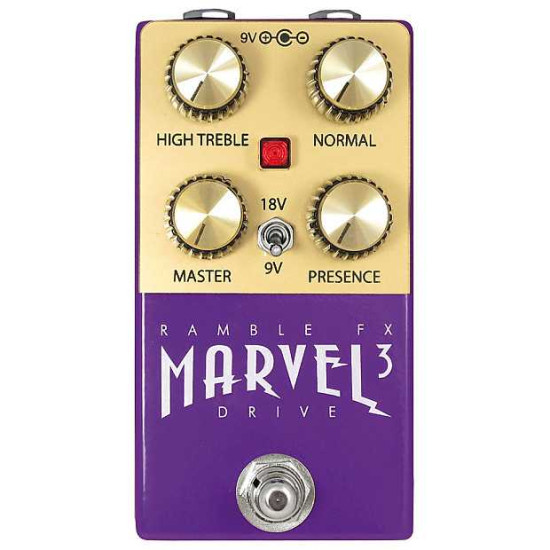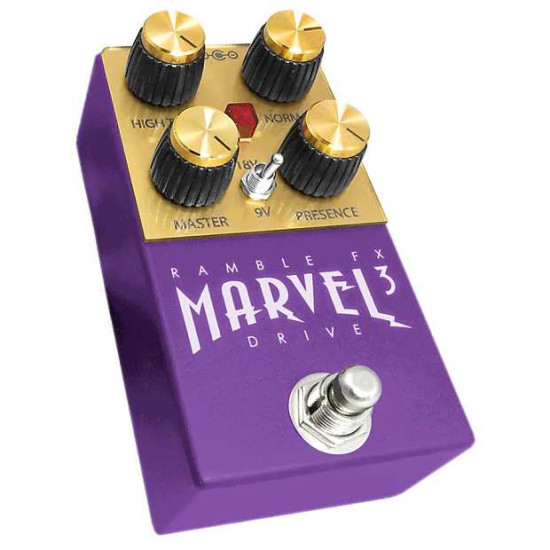 Ramble FX Marvel Drive V3 Overdrive Effects Pedal - Purple

Ramble Fx
Your search for the perfect plexi pedal is over! Marvel Drive delivers the KRRR-ANG and crunch that has defined rock tones from the 1960's through today. It uses JFET transistors to simulate tube gain stages, creating the give-and-take response that guitar players love.
Marvel Drive features unique "blended volume" controls to simulate a plexi amp with its inputs patched together. The result is two differently voiced gain controls that can be mixed together.
Marvel Drive has an innovative dual voltage switch. No need for an 18V supply, it can turn any voltage connected (9-20V) into 9V and 18V switchable on the fly. Set to 18V, Marvel Drive will be louder and have a sharper attack.
Plexi Front Panel, Indicator light, golden knobs, somehow familiar? Clearly, the Ramble FX Marvel Drive WHT is based on an icon of Amp history, the legendary, British Tube with Plexifront. The pedal does not only look, but also sounds like the real thing! One popular trick with Plexi Style Tops is to connect the High Treble and Normal channel by means of a patch cable and to mix the sound characteristics of both channels. The Marvel Drive is the first Plexi style ground effect, where you can play these special timbre convincingly. The basic equipment is rather Spartan, High Treble Volume, Normal Volume, Master Volume and a lonely Presence knob as tone control, are available. The sound of the pedal is very compelling, from low Gain AC / DC style crunch to rich overdrive, anything is possible. The pedal is very sensitive to the volume control on the guitar and the attack. By the use of JFET transistors extraordinary dynamics are generated. New ways were also gone with the True Bypass. The switching is completely crack-free via a relay. The current MK3 version now has an internal voltage transformer, which increases the internal operating voltage to 18 volts giving the effect considerably wider headroom.
 
Effect Type: Amp in a Box
Technology: Analog
Mono / Stereo: Mono In, Mono Out
Controls: Volume I, Volume II, Master, Presence
Switches: 9/18 Volt
Bypass Mode: True bypass