TC Electronic Alter Ego x4 Delay & Looper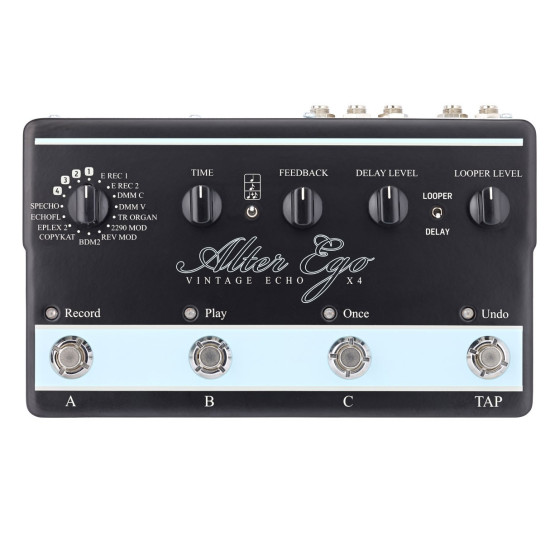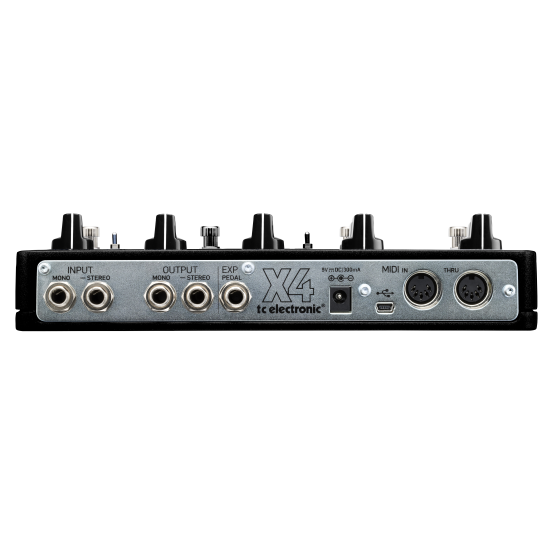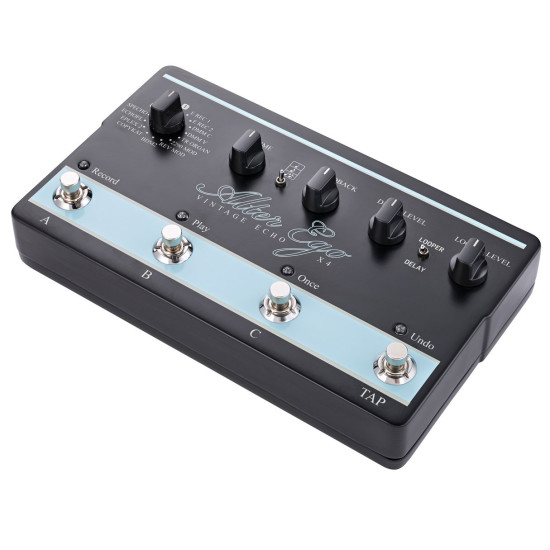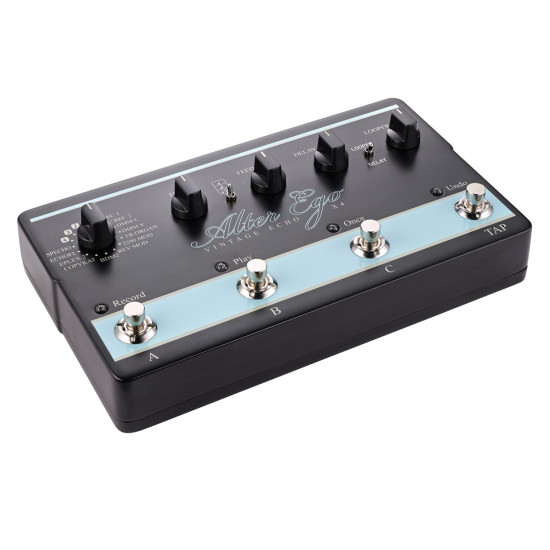 TC Electronic Alter Ego x4 Delay & Looper
Details
TC Electronic Alter Ego X4 Vintage Delay and Looper Guitar Effects Pedal
TC Electronic has a legendary reputation when it comes to delay and this legend only continued when we partnered with ProGuitarShop to create the Alter Ego Delay pedal. It became an instant classic so fast it made our heads spin. Maybe it was the wide range of classic delay sounds, maybe it was the instant access to spot-on tributes to the legendary delay units of yesteryear. We're not sure - and we're not sure it matters. What does matter is this: guitarists everywhere loved the original Alter Ego Delay with an unparalleled passion.  Feedback from the guitar community was clear - for the love of all that rocks, DO MORE.  So we decided to up the ante.
Delay Alchemy
Turns out that our pure love for sound and obsessive-compulsive guitar nerdery is shared around the globe. We are totally stoked to repeat the wizardry and conjure up some delay tones that are truly magical. This resulted in no less than twelve exclusive hand-selected sounds, lovingly crafted for Alter Ego X4 Vintage Echo. From a tribute to the classic Binson Echorec* to a salute to the sweet Roland Space Echo*, an amazing Echoplex* sound and of course a custom version of TC Electronic's own 2290, Alter Ego X4 Vintage Echo takes you on a trip through the sweetest delay sounds ever. Lo-fi, Hi-fi, Tape, Analog and pristine digital delays - it's all here in spades.
Twelve exclusive Delay sounds, expertly crafted by TC Electronic and ProGuitarShop
Spot-on tributes of time-honored classic delay units
A true celebration of the best of the best in tape, analog and digital delays
TonePrint Enabled - for a world of signature effects
TONE STRAIGHT FROM THE HEART
When you've been playing guitar since before you could walk and now you run a guitar division where quality and love for tone are paramount, you can't help but create great tones. Our resident rock-star Tore and the guitar gurus at ProGuitarShop have cherry-picked the finest delay sounds around. Love for tone and great sound were the core of the original Alter Ego Delay, and the Alter Ego X4 Vintage Echo takes this love to the next level.  Seriously, you've got to hear this thing!
ROCKING RETROSPECT
With the elegant ProGuitarShop custom designed graphics, we're proud to continue and advance our delay legacy with Alter Ego X4 Vintage Echo. With 16 delay types, 3 presets, tap tempo and ample I/O options, it quickly becomes clear that this entry is a force to be reckoned with. Add this to the exclusive 12 sounds, plus the awesomeness that is TonePrint and it's easy to see that this is your one-stop for delay when quality matters. And let's face it, when it comes to guitar sounds, it does.
TONEPRINT – SIGNATURE EFFECTS
TonePrint, our signature versions of classic delays made by music's finest (from rock royalty, to YOU via our TonePrint Editor) allows you to cram as many delay types into this little miracle as your heart desires. From custom tuned tones by music's elite, to classic takes on legendary sounds, your vision is your sound!
The Artist Entrance
TonePrint means signature effects - and signature effects means truly creative tones. From classic innovators to the guys shaping the future of music, we've asked the coolest artists around to come up with their customized signature version of a TC Electronic effect - and make them available to you for free!
Beam!
Download the free TonePrint app for Android and iPhone, choose the TonePrint you want to hear and beam it instantly from your phone through your guitar's pickup into your TonePrint pedal. No cables needed!
Backstage Pass - All Access 
Alter Ego X4 Vintage Echo does two things: minimize hassle and maximize tone. It houses brilliant delays and is simple to operate, while the sounds and TonePrint functionality span the complete spectrum of delay, in the most musical way possible. Featuring twelve exclusive delay sounds made by the finest tone connoisseurs at TC Electronic and ProGuitarShop. From classic Echorec* delays to the pinnacle of 2290 sounds, these tones are ready to go wherever you want to take them.
Alter Ego Delay's Resume
Twelve exclusive gorgeous delay sounds, lovingly crafted by TC Electronic and ProGuitarShop
TonePrint® enabled 
Beam enabled
Pedal simple - don't read, rock!
Three Presets
Tap Tempo
16 Delay Types
40 second looper with undo function
Independent loop and delay engines 
True Bypass (optional buffered)
Analog-Dry-Through
Expression pedal input
Stereo in- and output
MIDI enabled
Subdivision selector including dual delay 
9 Volt DC power supply included
Humongous headroom
 Your Vision, Your Sound!
Music is the truest expression of self. That's why it is your right to have your effect sound the way YOU want to, no holds barred.
With the TonePrint Editor, you get full control over all effect behavior, knob ranges and everything in between so you can create your signature TC sound.