Alexander Pedals Sky 5000 Reverb and Delay Pedal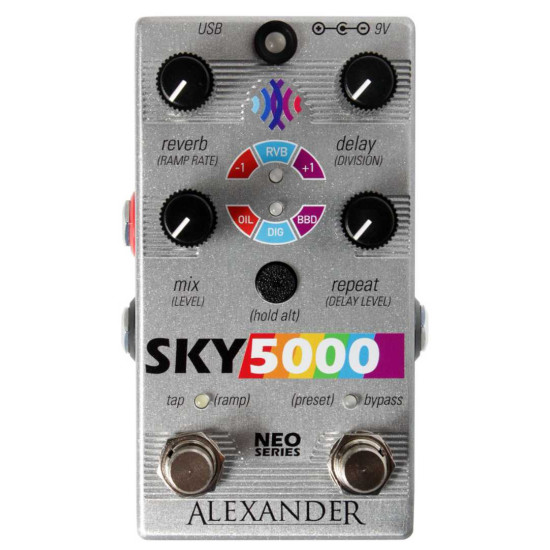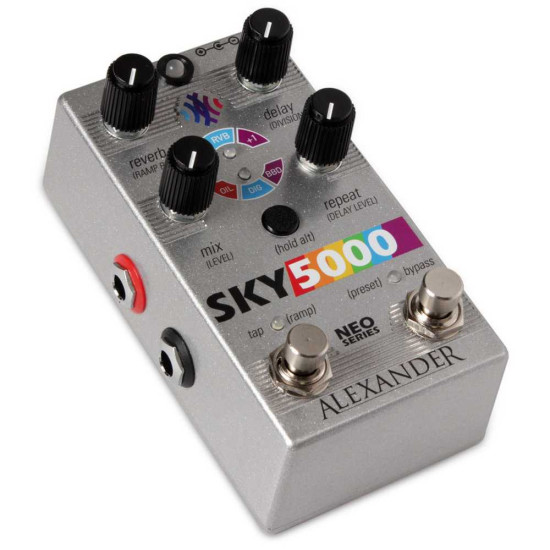 Alexander Pedals Sky 5000 Reverb and Delay Pedal

Alexander
Alexander Pedals Sky 5000 Reverb and Delay Pedal
The Sky 5000 bathes your signal in an excess of echoes, a deluge of delay, and a surfeit of shimmer.  All of the ambience you desire is a footstep away.
Building a great delay pedal was foremost in our minds when we designed the original Sky Fi.  Development began with a crystal-clear digital delay engine combined with a tone filter to allow tailoring of the response to your liking.  We then added a reverb engine that draws inspiration from certain digital rack units of the '80s and '90s.  These units were designed to be as affordable as possible, and had some unique hardware quirks that caused their reverb effects to build in intensity over time.  This "slow-building" artifact is one of the things that made these units so special.
When it came time to adapt the Sky Fi to the Neo Series platform we decided to keep the essential simplicity of the original. Inside the Sky 5000 you'll find the same great tones from the Sky Fi, with a few tweaks to improve the performance and audio quality. Tap tempo, a simplified Repeat control, and more selectable delay tone options await. We hope you love this pedal as much as we do.
The Sky 5000 features dual Reverb and Delay engines, routed internally in a parallel configuration. This allows you to combine the two effects without having the reverb wash out the delay, or the delay muddy up the reverb.
Each engine has three separate settings, and you can combine them in any way you like. If you want to use only the reverb or only the delay, you can set their levels to zero using the pedal knobs.
REVERB ENGINE:
RVB Slow-building '90s style reverb effect. Capable of huge washes or subtle ambience, you decide.
+1 Classic "shimmering" upper octave effect. We add in the octave both before and after the reverb for maximum effect.
-1 Adds an octave down to the reverb effect. We think it sounds like a cello playing along with you.
DELAY ENGINE:
DIG Bright and present digital delay, taken from our original Radical Delay pedal. Use this when you need to cut like a knife.
BBD Darker analog sounding delay effect. Rich and creamy, pairs nicely with the +1 engine for maximum unforgettable fire.
OIL DARK sounding delay, murky and a little distorted. Based on our fave vintage electrostatic "oil can" delay unit.
Features
PRESETS

Four built-in presets give you quadruple the tones in a single footprint.  Add a MIDI controller for 16 presets.

NEO MORPH

Seamlessly morph between different knob settings on the fly using the built-in ramp footswitch, expression pedal, Neo Footswitch, or MIDI controller.

MULTIJACK

Connect an expression pedal, Neo Footswitch, or MIDI controller to this jack to add performance control to your pedal.

TAP TEMPO

Accurate tap tempo control over the delay engine.  Quarter, dotted eighth, and eighth note subdivisions are available.

AUTO TRAILS

Set the pedal trails from 0-10 seconds.  The pedal will automatically perform a smooth fade at your chosen time.

RAMP HOLD

Hold the Tap / Ramp footswitch to engage the Neo Morph function.  Ramps all of the pedal knobs, configurable from 0-10 sec.

MIDI CONTROL

Every knob and setting on the pedal is controllable using MIDI.  Connect using the MultiJack and our Neo Link or directly to any Disaster Area Gen3 controller.

SELECT BUTTON

Tap this button to select a new sound mode.  Hold it down to access the alternate knob functions (listed in parentheses).

USB PORT

Every Neo Series pedal features a USB port for MIDI control and firmware updates.
Mono input
Dual output (mix signal on tip, dry signal on ring)
Input Impedance:  1M ohms
Output Impedance:  560 ohms
DC 9V only, 100mA or greater
Requires isolated DC power supply
4.7" x 2.6" x 1.5" H x W x D not including knobs
Nine effects combinations
Four presets, expandable to 16 with a MIDI controller
MultiJack enables expression pedal, foot switch, or MIDI input
Neo Morph allows controlling all knobs from expression or MIDI
Tap Tempo with quarter, dotted eighth, eighth note divisions
Hold Tap switch to trigger Ramp Hold + Neo Morph
USB port for firmware updates and USB MIDI