Alexander Pedals Superball Kinetic Modulation Guitar Effects Pedal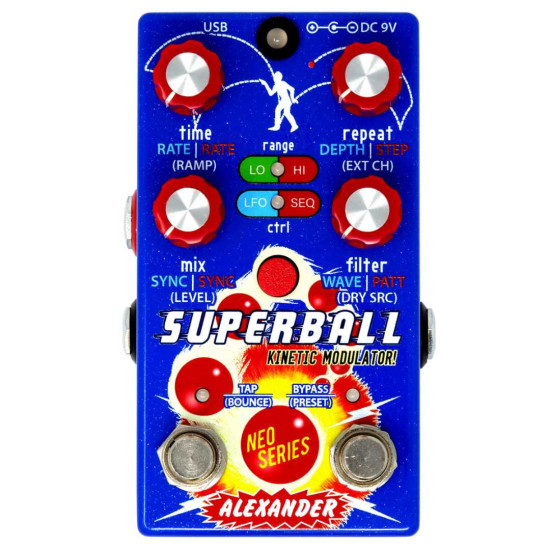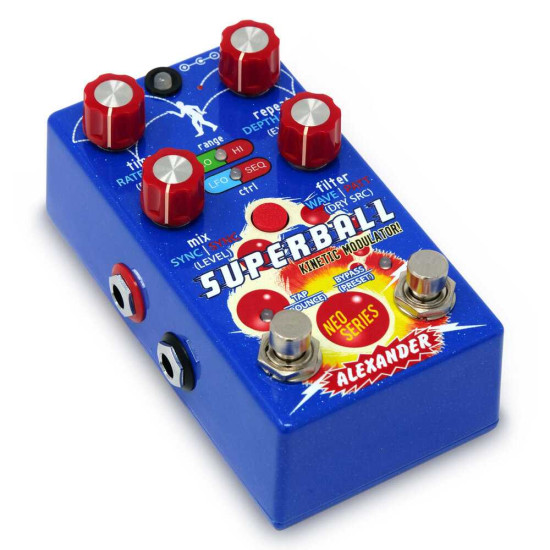 Alexander Pedals Superball Kinetic Modulation Guitar Effects Pedal

Alexander
PRESETS
Four built-in presets give you quadruple the tones in a single footprint. Add a MIDI controller for 16 presets.
ULTRA LFO
Multi-wave low frequency oscillator controls every knob on the delay effect, in any amount and direction. Sync to tap tempo or bounce it like a ball.
SEQUENCER
Flexible step sequencer controls the delay clock for real-time pitch shifting and time-stretching effects. Use the built-in patterns, single step, or enter your own using MIDI.
TAP / BOUNCE
Configure this footswitch as tap tempo for accurate setting of delay time, LFO speed, or sequencer rate. Or set to manually "bounce" the LFO with realistic rubber ball physics.
MIDI CONTROL
Every knob and setting on the pedal is controllable using MIDI. Connect using the MultiJack and our Neo Link or directly to any Disaster Area Gen3 controller.
SELECT BUTTON
Tap this button to assign the knobs to control pedal functions. The Select button allows four knobs to do quadruple duty for full hands-on control. Hold the button down to access the four global parameters for even more real-time control!
MULTIJACK
Connect an expression pedal, Neo Footswitch, or MIDI controller to this jack to add performance control to your pedal.
USB PORT
Every Neo Series pedal features a USB port for MIDI control and firmware updates.
Superball is a little different from all of our other pedals. While it is basically a great-sounding digital delay, it also goes a lot further than that.
The pedal features an ultra-flexible LFO (low frequency oscillator) that can control all of the delay parameters, in any amount, in any direction. The LFO can run continuously or be set to "bounce" like a real rubber ball.
Top that off with an innovative sequencer that controls only the delay clock, for pitch shifting and time-stretching action, and you've got yourself a heck of a fun toy.
Tap the Select button to assign the pedal knobs to one of four control modes:
LO = controls the delay time, repeat, mix, and filter when the LFO is at its low point
HI = controls the delay parameters when the LFO is at max
LFO = knobs change the LFO speed, depth, wave shape, and tap sync or bounce
SEQ = knobs change the sequencer rate, pattern, steps, and tap sync.
Four presets, expandable to 16 with a MIDI controller
MultiJack enables expression pedal, foot switch, or MIDI input
Neo Morph allows controlling all knobs from expression or MIDI
Ramp footswitch triggers Neo Morph settings
Selectable dry signal source (analog with trails, analog, digital)
USB port for firmware updates and USB MIDI
Mono input
Dual output (mix signal on tip, dry signal on ring)
Input Impedance: 1M ohms
Output Impedance: 560 ohms
DC 9V only, 100mA or greater
Requires isolated DC power supply
4.7" x 2.6" x 1.5" H x W x D not including knobs