Alexander Sugarcube Stereo Chorus / Rotary Pedal w/ MIDI Control, Crystal White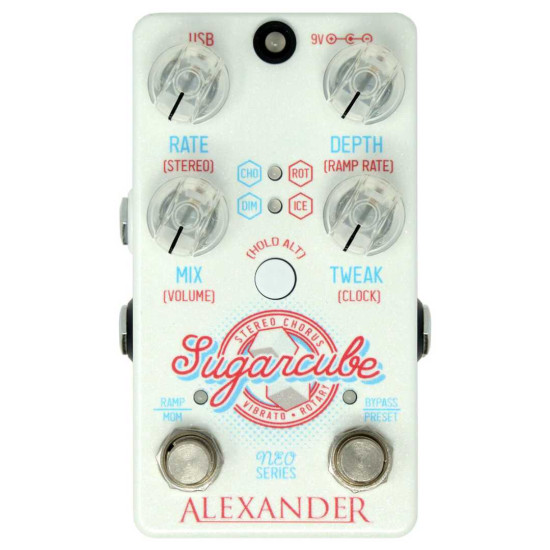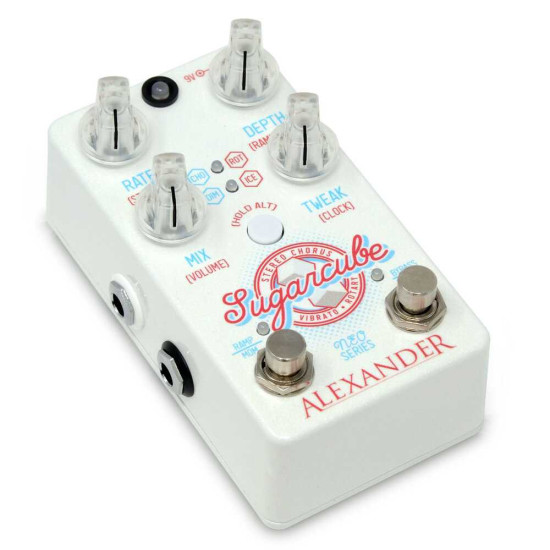 Alexander Sugarcube Stereo Chorus / Rotary Pedal w/ MIDI Control, Crystal White

Alexander
Sugarcube features four distinct sound modes, each with its own sweet options.
CHO mode is the iconic '70s and '80s analog chorus tone, with a single delay line and one voice. Rate and Depth control the modulation, while the Tweak knob adds additional voices mixed in from further down the delay line. In mono mode, up to three voices are available, but in stereo mode Sugarcube can mix up to six voices across the soundstage.
DIM features two separate delay lines that move in opposite directions for a "motionless" chorus. This is usually much more subtle than the CHO mode and is excellent for adding space to your tone without a lot of warble. Tweak adds adjustable feedback for "flange"-type chorus sounds popular in the mid to late '80s.
ROT is our recreation of the magical spinning speaker. The Tweak knob controls the mix between the upper rotors and the lower drum. We recommend you try this one with the Mix knob fully clockwise for the strongest effect, and it does sound way cooler in stereo!
ICE an Alexander original, this mode adds an adjustable pitch shift to the chorus voices. The pitch is selectable from -1 Octave, Detune, + 5th, and +1 Octave. Try this with two different pitch settings on the Ramp footswitch for sliding modulation effects. We also love hearing this one with the Clock knob set low for grainy primitive "12-bit" digital effects.
PRESETS
Four built-in presets give you quadruple the tones in a single footprint. Add a MIDI controller for 16 presets.
 
RAMP FOOTSWITCH
Tap the left footswitch to trigger and latch Neo Morph, or hold it for a momentary Morph effect.


 
MIDI CONTROL
Every knob and setting on the pedal is controllable using MIDI. Connect using the MultiJack and our Neo Link or directly to any Disaster Area Gen3 controller.
NEO MORPH
Seamlessly morph between different knob settings on the fly using the Ramp footswitch, expression pedal, Neo Footswitch, or MIDI controller.
SELECT BUTTON
Tap this button to select a new sound mode. Hold it down to access the alternate knob functions (listed in parentheses).
MULTIJACK
Connect an expression pedal, Neo Footswitch, or MIDI controller to this jack to add performance control to your pedal.
 
STEREO OUTPUT
Connect a TRS cable to the main output to access Left and Right stereo outputs in Stereo Mode, or Wet and Dry outputs in Mono Mode. Connect a standard mono cable for mono operation in any mode.
USB PORT
Every Neo Series pedal features a USB port for MIDI control and firmware updates.
Four sound modes, each with Mono and Stereo variations
Four presets onboard, expandable to 16 with a MIDI controller
MultiJack enables expression pedal, foot switch, or MIDI input
Neo Morph allows controlling all knobs from expression or MIDI
Ramp footswitch triggers Neo Morph settings
USB port for firmware updates and USB MIDI
Mono input
Stereo output, selectable between L + R or Wet + Dry
Output changes to mono automatically if a mono cable is used
Input Impedance: 1M ohms
Output Impedance: 560 ohms
DC 9V only, 100mA or greater
Requires isolated DC power supply
4.7" x 2.6" x 1.5" H x W x D not including knobs