Flamma Innovation FV01 CORRECTOR Voice and Microphone Effects Pedal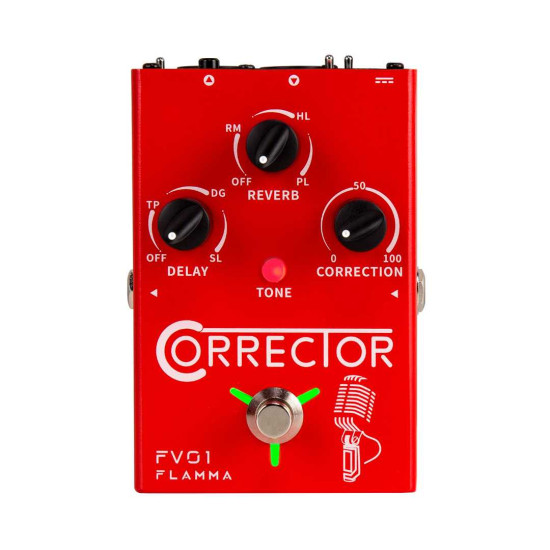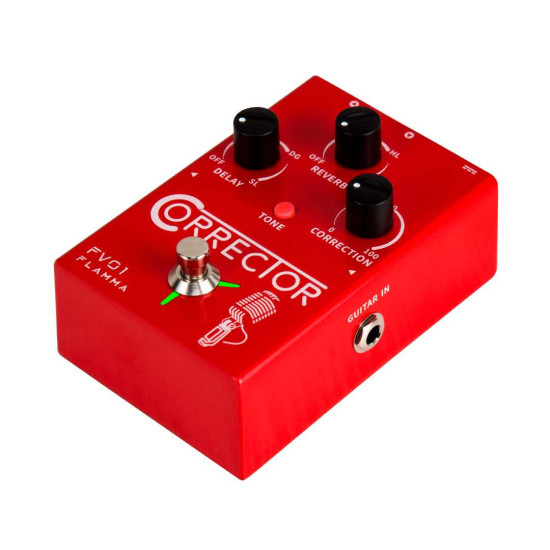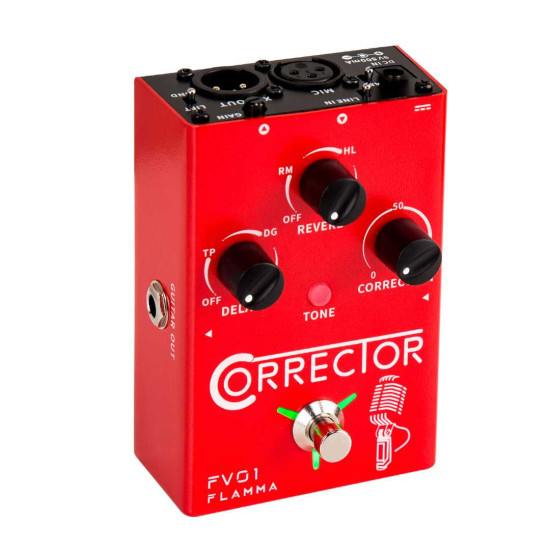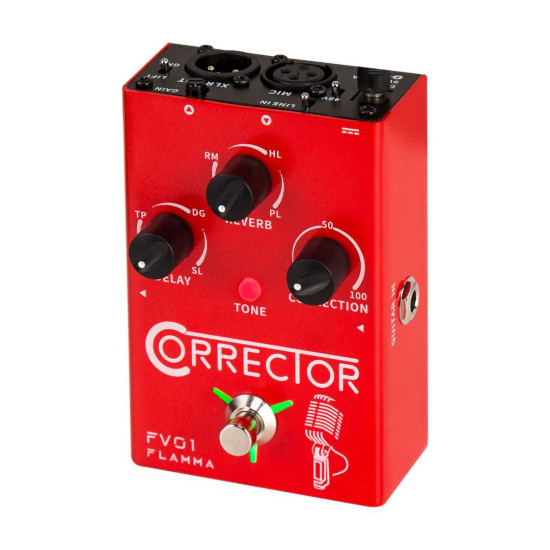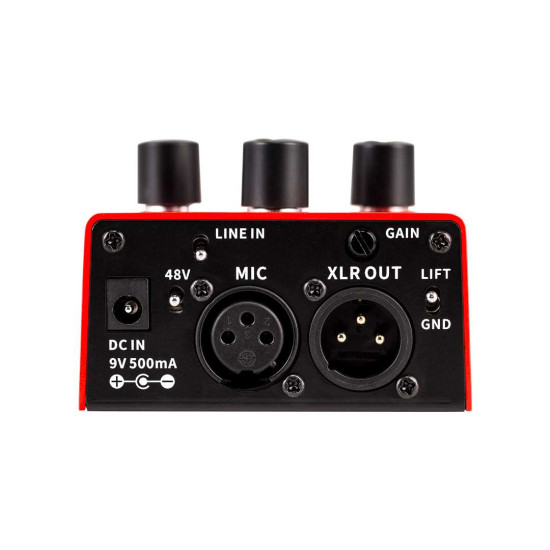 New






Flamma Innovation FV01 CORRECTOR Voice and Microphone Effects Pedal

Flamma Innovation
FV01 Vocal Pitch Correction Pedal
Flamma Innovation comes out of the gate hot this fall with several brand-new products, the first of which is the FV01 Corrector, a compact Vocal Pitch Correction pedal aimed at guitarists and vocalists.
As the name suggests, the Corrector is primarily a pitch-correction pedal that offers everything from pitch correction to full-blown effects overload when your input is microphone. Starting with the vocal effects, the FV01 features three separate vocal effects as indicated by the TONE LED displayed prominently in the center of the pedal. Singers can switch between WARM, BRIGHT, and NORMAL modes, with each mode indicating the type of EQ manipulation provided by the pedal.
In combination with the three different TONE modes, the FV01 provides a separate knob for each primary effect such as REVERB, DELAY, and CORRECTION. Delay and reverb effects have three settings each and the level of pitch correction can be adjusted from 0 – 100, allowing for minor pitch correction or a heavy vocal effect when turned all the way up. For input/output flexibility, the Corrector allows your guitar and mic signals to be separated, with each going out of different outputs, or mixed to have both signals sent through each output.
Features
Precise pitch correction effect with a clean, even tone
High-quality delay and reverb specifically designed for vocal performance
Built-in TAP TEMPO feature to set timing of delay effects
Three vocal tone settings
Guitar in/out with individual guitar reverb effect
Optional 48V phantom power
Can be used as a microphone amplifier or a traditional stompbox
Two different output modes for mixed signal or individual signal from guitar and microphone 
Connections
Video
Specification
| | |
| --- | --- |
| Guitar Input: | 1/4'' mono audio jack (impedance value: 1M ohms) |
| Guitar Ouput: | 1/4'' mono audio jack (impedance value: 100 ohms) |
| MIC: | XLR balanced input jack (impedance value: 2.14k ohms) |
| XLR Output: | XLR balanced output jack (impedance value: 300 ohms) |
| Frequency·: | 20Hz~20K Hz |
| Power Supply: | AC adapter 9V DC 500mA |
| Dimensions: | 86mm*125mm*60mm |
| Weight: | 0.371kg |
| Accessories: | Safety Instruction & Warranty Card,Sticker,quick guide |
Relevant Attachments
User's Guide
FV01_Manual_EN_V02_2021.01.15 A.pdf
File description
Recommend to use isolated/individual power supply. Sharing power supply with other pedals may cause unexpected noise. 
Please read the manual carefully before using the product